Our Local Community
I'm biking around the community, creating videos at interesting places and bringing them to you.
Benicia has a population of about 28,000. As you might imagine, a city of this size has a great deal of small-town charm. We have many events where you will see 10,000 people or more come together in the historic downtown. Join us for our Torchlight Parade (on the 3rd of July), our Christmas Tree Lighting (the first Friday of December), and our famous Peddler's Fair (the second Saturday in August). You will see scenes that could have come directly from a Norman Rockwell illustration.
Benicia has a wonderful water-front State Park which is very popular with walkers, joggers, and cyclists alike. Benicia is about 10 minutes from the Vallejo Ferry which is a great, fast way to commute to San Francisco for your job, or a Giants game.
Benicia also is also close to the Napa and Sonoma Wine Countries for a quick getaway.
I live in Glen Cove, Vallejo. Vallejo has its own appeal with three college campuses, three golf courses, and a world-class amusment park. You will also find a vibrant community of artists and musicians here.
In my neighborhood, I host a shred day event for my neighbors at Quiet Harbor homeowners association to jump start their spring cleaning. My office in Benicia also hosts a annual shred day event for the community.
Volunteering in the Community
You never know what you'll be doing when you volunteer in this vibrant community.
Here I am helping out at the Zombie Staging Area of the Vallejo's Obtainium Cup.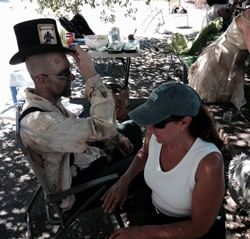 The city of Eureka has played host to the Kinetic Race over the Memorial Day weekend for several years now. In the Eureka race hundreds of people create contraptions for a race which must stand up to three elements: pavement, sand and water.
Now the city of Vallejo plays host to a similar race, sans the water and sand, called the "Obtanium Cup".
"We are so delighted to have this race come to Mare Island," said Vallejo activist Frank Malifrando, a Kinetic Obtainium follower who helped inspire the race. "It will only get bigger and better each year as the word gets out," he said.
Malifrando was seen in his traditional Mad Hatter top hat and tails replete with gold brocade.